105 MILE ROUTE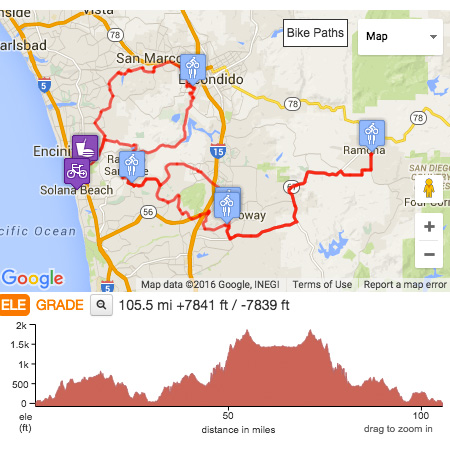 VIEW MAP ON RIDEWITHGPS.COM.
GPX FILE (from RIDEWITHGPS. Download by viewing the map here, select the "export" tab on the right side of the screen, and then select "GPX Track")
(PLEASE USE GPS FILES FOR ROUTE OVERVIEW INFO ONLY, USE PDF CUE SHEET LINK ABOVE, AND PRINTED CUE SHEETS/SIGNAGE ON EVENT DAY AS OFFICIAL GUIDES)
3 Reasons We Dare You To Climb The Purple Monster!
Your official time will live forever.


Continuing in 2018: every 105 mile rider will have a timing chip and get an official time on the Purple Monster Climb. Get your bike and your legs ready to bring your best to mile 48. 105 mile riders will hit the Purple Monster Climb approximately 48.5 miles from the start at MiraCosta College. The climb is about 1.7 miles long with a 7% grade.



You won't forget the Purple Monster medal you receive at the finish line.


Wait until you see the 2018 design for all the 105 mile finishers!


Show your 'guns', like this rider!
At the very least, get your pose ready for the cameras on the climb!
See you at the San Diego Century, one of Southern California's best and most scenic rides.
Choose from 33, 67 or 105 mile routes with signature climbs that include the Purple Monster Climb, the Three Witches Climb and the RSF Climb.
More info on the San Diego Century Climbs:
67 Mile Route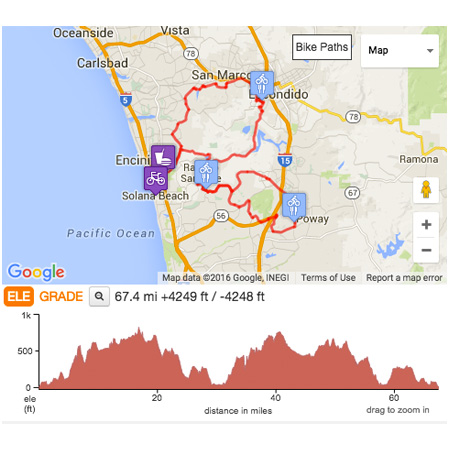 VIEW MAP ON RIDEWITHGPS.COM.
GPX FILE (from RIDEWITHGPS. Download by viewing the map here, select the "export" tab on the right side of the screen, and then select "GPX Track")
(PLEASE USE GPS FILES FOR ROUTE OVERVIEW INFO ONLY, USE PDF CUE SHEET LINK ABOVE, AND PRINTED CUE SHEETS/SIGNAGE ON EVENT DAY AS OFFICIAL GUIDES)
33 MILE ROUTE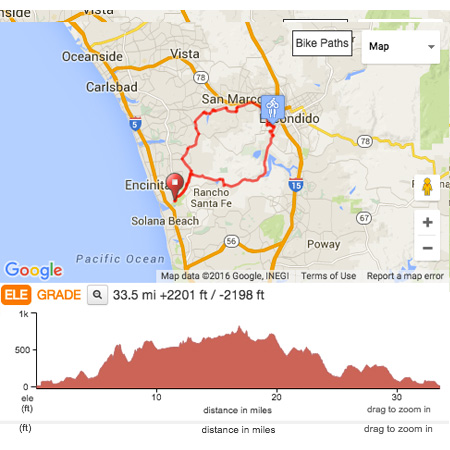 VIEW MAP ON RIDEWITHGPS.COM.
GPX FILE (from RIDEWITHGPS. Download by viewing the map here, select the "export" tab on the right side of the screen, and then select "GPX Track")
(PLEASE USE GPS FILES FOR ROUTE OVERVIEW INFO ONLY, USE PDF CUE SHEET LINK ABOVE, AND PRINTED CUE SHEETS/SIGNAGE ON EVENT DAY AS OFFICIAL GUIDES)