REGISTRATION
ECO MARATHON - 10TH ANNIVERSARY
Early registration: $110, Starting 9/26/16: $135
HALF MARATHON
Early registration: $90, Starting 9/26/16: $110
10K
Early registration: $35, Starting 9/26/16: $45
10K (Youth 17 & under)
Early registration: $35, Starting 9/26/16: $45
KIDS FUN RUN (Must be 10 or younger on event day)
$10
RACE DAY REGISTRATION
Race day registration will take place on the Wrigley Stage next to the Fountain and in the middle of town. The start line is just steps away, so come on over in the morning, grab your number and start your race. All races finish back at the Fountain.
Get a Double Buffalo Medal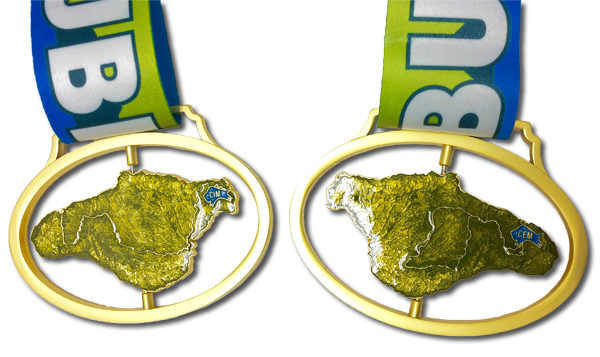 Run the Catalina Island Marathon in March and the Catalina Eco-Marathon in November in the same year and earn a Double Buffalo Medal!!
It's the hardest race you will ever love!
Experience the spectacular views of the Pacific Ocean and the island's wildlife. Sign up for either the 26.2 or the 13.1 miles and run some of the most beautiful, rugged and breathtaking trails you will ever experience!
All marathon and half marathon finishers receive a medal & shirt! All 10K runners receive a shirt and the overall finishers & top three in each age group receive a medal. All Kids will receive a finisher medal.
In cooperation with our host, Catalina Island Conservancy, the Catalina Eco Marathon & Half will be CUPLESS COURSES! For hydration, we will be offering participants the option to purchase a $5 Salomon reusable soft-cup or provide your own hydration system. Thank you for helping us reduce the footprint on the island!
---
---
 Start Times for the Runs
The Marathon will start near the High School near Falls Canyon Road; the Half Marathon will start at Sumner Ave. You will have plenty of time to take the early Catalina Express boat out of Long Beach and make it to the start line for the beginning of your run.
Marathon – 8:00 am
* There will be an eight hour cut-off time for the marathon
Half Marathon--8:30 am
10K Run – 8:45 am
Kids Race -- 9:30 am
Start Line Map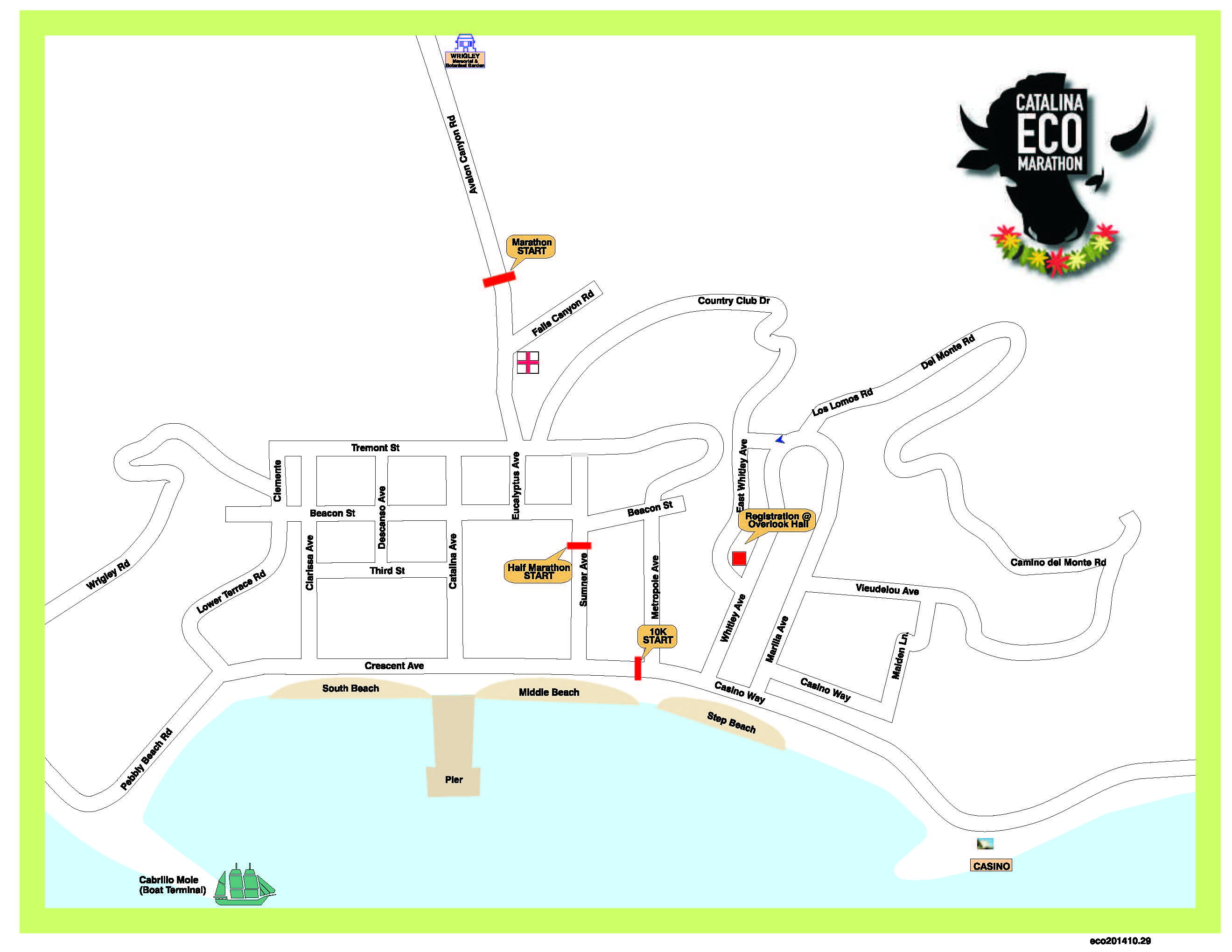 Download START LINE MAP PDF
---
Packet Pick-Up Information
Friday, November 18th - AVALON 
Island Spa Catalina (new location)
163 Crescent Ave
Avalon, CA 90704
3:30 p.m. - 7:00 p.m.
Saturday, November 19th - AVALON 
7:00 a.m. Wrigley Stage (located at the bottom of Sumner Ave. and Crescent Ave. next to the Green Pier) 
What if I can't pick-up my bib? Can someone else pick-up my bib for me? 
Yes, someone can pick-up your bib and registration materials if you cannot make it to packet pick-up. You MUST provide BOTH:
A copy of your valid driver's license or photo identification card (Smartphone picture will be accepted)
A signed and printed out Event Waiver
A signed BIB Authorization Form
WE WILL BE UNABLE TO RELEASE YOUR BIB TO ANOTHER PERSON WITHOUT THIS INFORMATION. 
Click here to print Event Waiver for Catalina Eco Marathon.
Click here to print BIB Authorization form. BIB Authorization form will not be available onsite.
---
Marathon Course
The Catalina Eco Marathon is a trail marathon that traverses the inner the roads and trails of the interior of Catalina Island.  Participants are encouraged to bring their own water bottles, gels and other nutritional support for use between support stations. Support Stations will have water, Electrolyte, candy, salt and other supplies for your use and nutrition.
This is a cupless event in keeping with the sensitivity of our host, Catalina Island Conservancy. 
There will be 11 stations out on the course, plus the post-race food at the finish line.  Water stations will be positioned approximately every 2 – 3 miles as follows (approximate mileage):
| | |
| --- | --- |
| Location | Mile Point (approximate) |
| Avalon Canyon at Start of Horse Trail | Mile 1.0 |
| Divide Trail – just past Hermit Gulch Trail | Mile 3.2 |
|  Airport Rd- SCE road exits | Mile 6.2 |
| KBRT Trail at Gate | Mile 8.8 |
| Bullrush Canyon Trail at Big Pond | Mile 11.5 |
| Thompson Reservoir Gate | Mile 15.1 |
| Cape Canyon Trail at split to Buffalo Pond | Mile 17.5 |
| Top of Trail at Airport Road | Mile 19.0 |
| Airport Rd-SCE road exits | Mile 20.4 |
| Hermit Gulch | Mile 23.6 |
| Avalon Canyon at Start of Horse Trail | Mile 25.5 |
Elevation Chart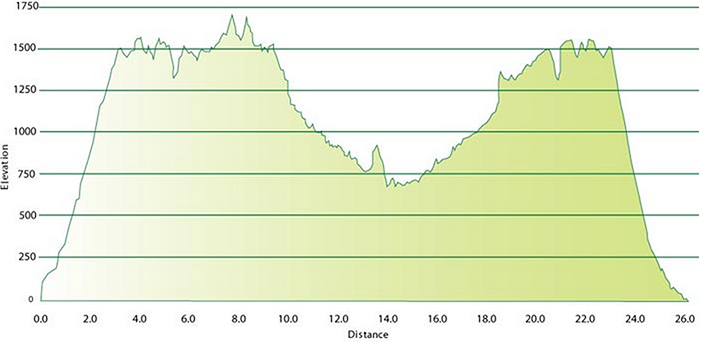 ecomarathon_elevationchart.png
Conquer "Catalina Crush" Hill
Come earn your buffalo finisher medal by experiencing Catalina Crush, a famous hill at mile 19 of the marathon course.  After conquering the hill stop at the mile 19 aid station to gulp down an official Catalina Crush drink to re-energize! To best describe this hill to those of you that haven't ran it, check out this poem written by Scott Cline, a Catalina Eco Marathon legacy runner.
"For three years now, as I approach the base and look up at those people WAY up there at the top, I say a LITTLE PRAYER. While I'm on it, I think of my farm heritage and low-gear strength requirements TRACTOR PULL as as I start I always have HIGH HOPES that's when I get to the top I can feel the Ancient Roman victory cheer VENI_VIDI_VICI (I came- I saw- I conquered) and head on down to the aid station feast." Scott Cline
---
Half Marathon Course
This beautiful trail half marathon course starts runners in the city of Avalon and quickly climbs to over 1600 feet in elevation. Runners enjoy the expansive Catalina Island Conservancy Nature Preserve with its spectacular vistas while being challenged by the rugged terrain. They'll also have the special thrill of knowing they're in bison territory—the Conservancy man-ages a free-ranging herd of 150 of the majestic animals.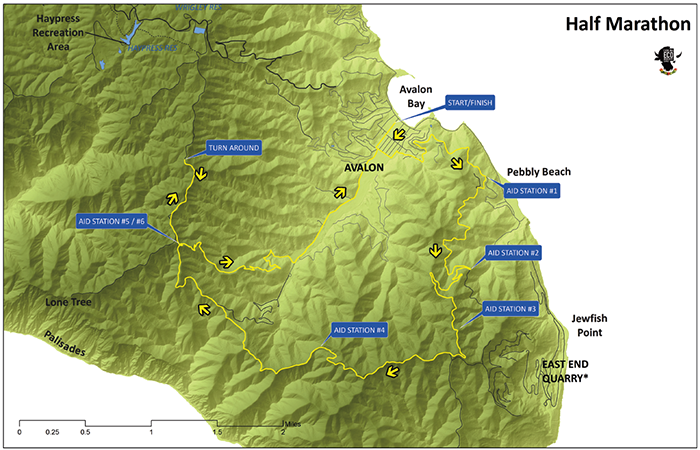 Eco-Marathon_HalfMarathonCourseMap.pdf


Eco-Marathon_HalfMarathon_Elevationprofile.pdf
---
10k Course
The Eco Marathon 10K will begin in the middle of Avalon and then run through city streets, up and down hills, reach the outskirts of the city before heading to over 2.5 miles of trails just above the city landscape.  You will run around Avalon's most famous landmark: the Casino building, by the Wrigley's house, turn around at the Wrigley Memorial and Gardens, and then on horse trails, past the golf course and back into town – finishing by the fountain, the landmark of downtown Avalon.
---
Course Records:
Marathon 
Male: Patrick Baldwin 2:47:54 (2011)
Female: Michelle Barton 3:32:40 (2007)
Half Marathon 
Male: David Burke 1:35:38 (2013)
Female: Kathrin Meade 1:46:08 (2012)
10k
Male: Bernardo Salcido 0:36:32 (2014)
Female: Kathrin Meade 0:39:11 (2011)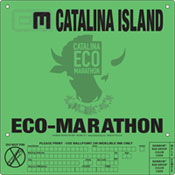 Legacy Runners-
If you see runners with green bibs, that means they are a legacy runner. Legacy runners have been registered in this event every year since the inaugural Catalina Eco Marathon (2007).
If you are a legacy, make sure to sign up now so that you don't miss out on being recognized as part of our Catalina Eco Marathon Legacy!
---
Photos